5 Easy Tips to Be Aesthetic: An Eye-Opening Guide [2023]
Hey there, lovely! 😊 Ever scrolled through TikTok and Instagram and found yourself utterly mesmerized by the aesthetic style of some profiles? Ever wondered how to elevate your own look with that distinct "clean girl aesthetic"? If so, you've landed on the right blog. With around 300B views on TikTok and more than 120M posts on Instagram, this trend is getting more and more popular every day! Let's dive into the realm of aesthetics, and I'll walk you through some simple steps to achieve that enviable aesthetic clothing vibe.
How to Be Aesthetic👆
---
How to be Aesthetic?
Want to know the secret recipe for nailing that unique aesthetic vibe? You're in the right spot! First things first, get to know what 'aesthetic' really means to you. A quick deep dive into the world of aesthetics can help you identify your true style. Once you've done that, it's time for a wardrobe refresh. Whether it's the latest trends or classic thrift-store finds, some essential pieces are a must-have. Don't forget the finishing touches—accessories can make or break your overall look. And let's not even talk about leaving the house without the right makeup and hairstyle—they're the cherries on top of your aesthetic sundae!
And hey, what's the point of all this fabulousness if you're not sharing it with the world? With platforms like Instagram and TikTok being such an integral part of our lives, you've got the perfect stage.
Stay tuned for more tips and tricks on this blog. Enjoy your aesthetic journey!
1- Choose Your Type of Aesthetic
Choosing your type of aesthetic is vital to have a unique style. But first things first, you should at least have an idea what aesthetic is. Here is your guide before deciding which aesthetic is perfect for your soul.
a) What is Aesthetic?
Ever wonder why some photos or outfits are just...so pleasing to look at? That's what we call aesthetically pleasing! It's a blend of color palette, type of clothes, and overall vibe that just clicks. Think of it as your visual language; it's how you communicate without saying a word!
At its core, "aesthetic" refers to a particular style or design that's pleasing to the eye. It's a vibe, a mood, something that resonates with your soul. Think of it as your visual signature on social media platforms. It's more than just what meets the eye—it's a feeling, a representation of who you are, your story. It's the harmony of colors, the type of clothes you wear, and the emotion they evoke.
Pay attention to what naturally draws you in. Whether it's the soft, pastel-colored building you pass by every day, the vintage patterns in your grandmother's attic, or even a character from a movie or book that you felt deeply connected to.
Some people gravitate towards soft, flowing fabrics, while others prefer the ruggedness of denim or the gloss of faux leather. Similarly, you might be a floral print person, or geometric patterns might speak to you. It's all about the tactile and visual sensations you enjoy.
It's all about embracing a consistent color palette, fashion trends, influence and inspiration, textures and patterns, and certain types of clothes. Remember, it's as much about how you feel as how you look. A harmonious style creates an eye-catching point of view that's uniquely you.
b) How to Find Your Personal Aesthetic
Your personal aesthetic style should be a mirror to your soul. Reflect on what colors and types of clothes resonate with you. Experiment with different fashion trends. Remember, your aesthetic is not static. It evolves as you do. If something feels right, it probably is. Your instincts are powerful guides in the journey of self-discovery.
It's like piecing together a puzzle of your personal identity. Start by collecting images, items, and even music that you love. Platforms like Pinterest and Tumblr can be gold mines for aesthetic inspiration. Create mood boards, either digitally or physically.
Discovering your aesthetic isn't about copying someone else's style. Reflect on what resonates with you. Maybe you're a mix of Grunge on weekdays and Cottagecore on weekends. Experiment with color palettes and fashion trends to see what feels authentic. For example, if you like the color pink, take a look at our Barbiecore aesthetic fashion guide. Maybe that'll be your favorite one!
The journey to discovering your aesthetic is intensely personal and incredibly rewarding. It's a celebration of the self, and through this exploration, you're bound to uncover aspects of yourself you never knew existed. Embrace the journey!
Here are some ideas for finding your aesthetic:
Take quizzes online: You know you love 'em!
Check out Pinterest: A treasure trove of aesthetic inspo.
Follow aesthetic accounts on social media: Instagram, TikTok, and even Tumblr are goldmines.
Close your eyes and thing about the colors you love most. This'll give you a hint!
Here are some aesthetic types broken down with signature colors to help you out:
| | |
| --- | --- |
| Aesthetic Type | Signature Color |
| | Soft pink, baby blue, and pastel colors. |
| | Black, purple, red. |
| | Pink, white. |
| | Metallic silver, purple, grey, white, blue. |
| | Pastel colors, soft pink, blue, purple. |
| | Black, brown, earth tones. |
2. Update Your Aesthetic Wardrobe
Okay, so you've nailed down your aesthetic. Yay! Now, let's talk about refreshing that closet of yours. Shop smart, okay? Think investment pieces that can be versatile. And for the love of fashion, don't forget to check out our clothing store for the trendiest and most eye-catching options!
Basics: Go for staple pieces that represent your aesthetic. It could be a classic Year 2000 cargo jeans, soft, oversized hoodies, crop sweaters, denim jackets, zip-up hoodies, and graphic tees are ideal for a capsule wardrobe.
1
HI & BYE HATERS CROP TOP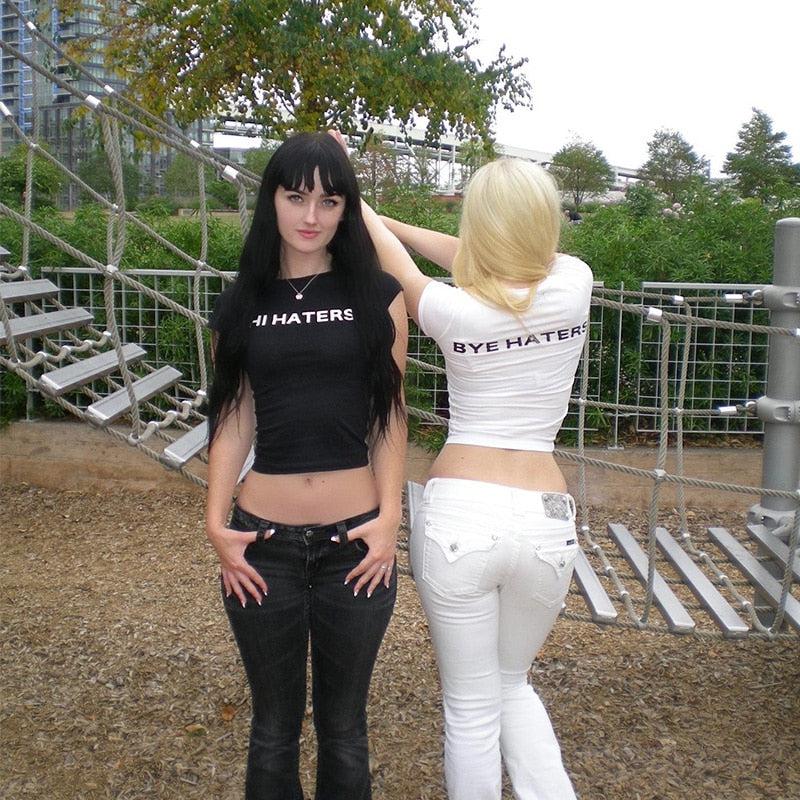 Fashion Trends: Make sure to keep updated with the fashion trends that match your chosen aesthetic. Sign up for newsletters, follow trendsetters on social media platforms, or even make Pinterest boards dedicated to this. Get some aesthetic crop tops, corsets, mini skorts, wide-leg pants, ripped jeans, and high-waisted shorts. Even combining these pieces with some specific accessories will give you a lit look.
2
FAIRY GRUNGE DETACHABLE SLEEVE HALTER TOP
Investment Pieces: While trends change, certain items like a faux leather jacket for Grunge fans or a timeless popcorn handbag for the Soft Aesthetic will always hold their value, both monetarily and stylistically. Investing in these pieces will save you in the long run.
3
DISTRESSED DENIM TRENCH COAT
Thrift and Upcycle: Being aesthetic doesn't mean you have to splurge all the time. Thrifting offers an eco-friendly way to get unique items that fit your aesthetic, and upcycling allows you to add a personal touch to older pieces. Vintage shops can be gold mines for the Fairy Grunge and Light Academia enthusiasts.
4
DARK ACADEMIA HALF ARGYLE SWEATER VEST
Seasonal Updates: Aesthetics can change with the seasons. Cottagecores might lean into floral dresses in spring, and Grunge aficionados might go heavier on the plaid and distressed sweaters in the winter. Be mindful of how your aesthetic adapts to the weather.
5
INDIE OVERSIZED PLUSH HOODIE
Mix and Match: Once your wardrobe is set, the fun begins! Play with combinations. You'd be surprised how a Dark Academia blazer can upscale a basic top and straight leg jeans. Or how a Baddie aesthetic tank top can transform a party piece.
6
CORSET TOP & WIDE LEG PANTS TWO PIECE SET
Closet Cleanse: Don't hold onto pieces that no longer serve your aesthetic or you. Donating or selling them can make room for pieces that resonate with your current vibe.
Clothes can make or break your aesthetic game. Ditch or donate what doesn't match your unique style anymore. Keep an eye out for the latest fashion trends that align with your aesthetic. And don't forget to pop by our clothing store for the most eye-catching options. Also, always keep following the latest fashion trends. Such as reading the Coquette aesthetic guide will give you an insight into a romantic style.
Congratulations, you've pinpointed your aesthetic! Now, let's bring that closet of yours up to speed. The aim is to curate a wardrobe that can easily adapt to your aesthetic without having to buy new clothes all the time. Trust us, shopping with a focus is a game-changer. Be sure to check out our clothing store for some trendsetting pieces to kick-start your journey.
3. Accessorizing
You've got the clothes, now what? Accessories, darling! These are the cherries on top of your fashion sundae, giving you that unique style that's sooo you. From bags to eyewear, we've got the lowdown on how to choose pieces that scream your type of aesthetic. So grab your shopping carts, and let's accessorize!
Bags: Choosing the right bag is like choosing the right partner—they've got to complement you but also have their own flair! If you're all about that soft aesthetic, maybe go for a pastel tote or a dainty sling bag. If you're channeling Year 2000 vibes, a metallic mini backpack could be your go-to.
WEIRDCORE RETRO PHONE SHAPED CROSSBODY BAG
Shoes: Oh honey, aesthetic shoes aren't just for walking; they're a statement. For a clean girl aesthetic, think minimalist—white sneakers or beige loafers. If you're tapping into your Tumblr soul, chunky boots or edgy platforms are the way to go.
Jewelry: When it comes to jewelry, less can be more—but sometimes more is just fabulous. Simple chain necklaces and hoop earrings are versatile choices. But if you're feeling more daring, chunky bracelets and statement necklaces can add a whole layer of glamour to your aesthetic style.
Belts and Scarves: Belts aren't just for holding up your pants, and scarves aren't just for cold weather. A statement belt can cinch your look together, literally. And don't overlook scarves; they can be tied around your bag, worn as a headband, or even work as a belt.
Eyewear: Last but certainly not least, let's talk aesthetic glasses. Whether it's sunglasses or specs, the frames you choose can say a lot about you. For a clean girl aesthetic, think classic shapes and neutral colors. If you're going for a bolder look, quirky shapes and saturated colors can make you stand out in a crowd.
DISCO COWGIRL OVERSIZED PARTY SUNGLASSES
Nails:From the classic French manicure to vibrant aesthetic nails, your hands tell a story, too. You can never go wrong with a French manicure. Elegant and timeless. To have a bold aesthetic, Dive into saturated colors. Think neon greens or electric blues. Want to up the game? Go for designs and patterns. Wanna look soft and subtle, opt for pastels, or even a clear coat with just a hint of shimmer. Remember, sometimes less is more.
4. Makeup and Hair
Ah, the finishing touches! Opt for makeup that's in harmony with your color palette. And your hair? Make it an extension of your aesthetic. From skin care to Design choices, everything should scream 'YOU!'
a) Applying your Aesthetic Makeup
Start with a primer that suits your aesthetic—hydrating for a dewy look or mattifying for edgy vibes. Follow with foundation: BB cream for a natural look or full-coverage for Year 2000 glam.
For blush, soft pink gives you that preppy charm, while bold shades dial up the Tumblr edginess. Apply on your cheekbones to create those aesthetically pleasing leading lines.
Eyes next! Choose eyeshadow in line with your color palette. Go for a soft or dramatic eyeliner depending on your aesthetic. Brows? Fluffy for soft looks and sharp for edgy styles.
Finish strong with mascara—lengthening for soft, volumizing for edgy. Lipstick completes the look: soft pinks for subtle aesthetics, bold colors for striking styles.
There you have it—your go-to makeup guide to express your unique style in less than 200 words!
b) Aesthetic Hair Ideas
Ah, your crown of glory! Your hair is a major part of your aesthetic and can really pull your whole look together. The key here is to go for hairstyles that fit your type of aesthetic and also work with your hair length.
Short Hair:
Soft Aesthetic: How about some loose waves to give you that soft, romantic look? You can also accessorize with satin or velvet hairbands.
Tumblr Vibes: Think edgy! A pixie cut with some fun colors like pink or purple could be super eye-catching.
Middle-Length Hair:
Preppy: A low ponytail with a side part screams preppy. Add some pearl hairpins for that extra pizzazz.
Year 2000: Remember the crimped hair? Yes, girl, it's making a comeback! Crimp a few sections for that nostalgic touch.
Long Hair:
Pinterest-worthy: Long, sleek hair parted in the middle is all over Pinterest. Add some leading lines with a straightener for that perfect Instagram shot.
TikTok Trendy: Have you tried the bubble ponytail yet? It's viral for a reason, super cute, and pretty easy to do!
Hair Accessories for Every Length:
Short: Hairpins and small clips can add flair without overwhelming your look.
Middle-Length: Scrunchies and medium-sized barrettes can complement your hair and outfit.
Long: Think big, like oversized bows or long, dangling hair chains.
5. Using Social Media
Let's get those pics ready for the IG, TikTok, or wherever you shine. Use filters that bring out the saturated colors, especially during the golden hour for that natural light. Trust me; this is how you create aesthetic pictures.
Put your best point of view forward. Use leading lines in your shots, pick angles that highlight your style, and go for the aesthetic photo that'll stop people from scrolling past. Share your Study tips for an aesthetic workspace, or show off your newly designed room. Anything and everything that is a true representation of you!
So, there you go! Five simple steps to bring out the aesthetic goddess in you. You're not just following a trend; you're setting one. So what are you waiting for? Take these aesthetic tips and style, create, and revolutionize your world.
If you're interested in aesthetics and wanna learn more about them, read our aesthetic blogs to follow the latest trends. Additionally, our 33 types of aesthetic guide is perfect to discover different types of aesthetics, take a look!
Comment below if you're aesthetic! It's the best way to find people like you!
---
FAQ's | How to Achieve an Aesthetic Style
Q:

How can I be aesthetic at school without being too over-the-top?
A: Girl, it's all about balance! 🙌
Wardrobe: Stick with a color scheme. It could be pastels, neutrals, or vibrant colors, just keep it consistent.
Accessories: Less is more. Pick statement pieces that elevate your outfit but don't scream for attention.
Stationery: Get yourself some cute notebooks, pens, and maybe even matching folders.
📚 Pro Tip: Customize your school supplies with aesthetic stickers. Your books will thank you.
---
Q:

I want to look pretty but also keep my aesthetic vibe. How can I do that?
A: You're already a stunner, babe, but let's amp it up! 🌹
Skincare: Before any makeup or filter, skincare is queen. A clean, glowing face is your best canvas.
Minimal Makeup: A dash of gloss and a flick of mascara can go a long way.
Hair: Whether it's beach waves or a sleek ponytail, make sure it complements your outfit for the day.
💋 Pro Tip: An iconic perfume can be your secret weapon. Choose a scent that matches your aesthetic.
---
Q:

How can I improve my aesthetic style?
A: Variety is the spice of life, girl! 🌶️
Inspiration Boards: Use Pinterest or mood boards to gather new inspo.
Mix 'n' Match: Don't be afraid to mix styles, like grunge with vintage or chic with casual.
Elevate Basics: Sometimes a basic tee can become edgy with the right accessories.
👗 Pro Tip: Don't overlook thrift shops. Some of the best unique pieces come from thrifting adventures.
---
---
0 comments